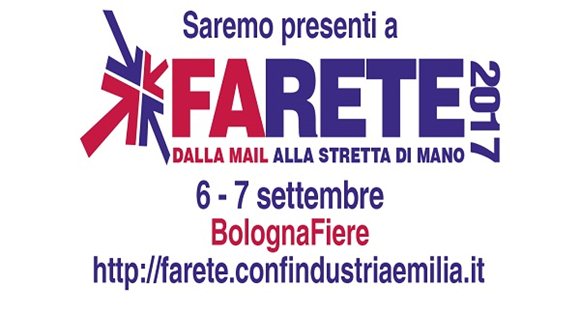 Tuesday, September 5, 2017
NBI participates in Farete2017 (6 to 7 September), the trade fair organised by Confindustria Emilia for the region's manufacturing companies. The event takes place at BolognaFiere, considered an auspicious place for companies to meet and develop business opportunities, as well as a great showcase for outstanding products and services.
Companies have their respective stands and meetings are set using electronic calendars.
Our stand is Q38, located in Hall 15.
Manufacturing companies can meet international buyers through the services of the International Club. These are business meetings with operators from abroad that have been invited by the association. Farete was established 5 years ago and over these years has achieved the following results:
• 60,000 visitors
• 2,600 exhibitors
• 130 international buyers from 35 countries taking part in more than 2,000 one-on-one meetings
• 11,000 meetings between companies pre-scheduled online
• 200 thematic workshops
Farete2017 is open in Halls 15 and 18 at the Bologna exhibition centre.
For additional information, see http://farete.unindustria.bo.it http://farete.unindustria.bo.it.